QuotaGuard Shield - Purpose-built for sensitive data protection needs
Custom domain and SSL support for Outbound Traffic
Securely route your inbound and outbound traffic through a load balanced pair of static IP addresses via our distributed proxies.

QuotaGuard Shield allows you to integrate with third parties that require a known IP for allow-listing or to open your own firewall to allow secure traffic through. We support SSL and custom domains.
SSL Passthrough for Inbound Traffic
Inbound proxy uses SSL passthrough – not SSL termination at each end point – to provide end to end security for your application traffic.
End to End Data Security
Certificates can be managed at each end point, with your own certificates (for example, from LetsEncrypt) or using Heroku's ACM. Quotaguard Shield is fully self-configurable, which allows you to set up your service securely and be running in minutes.
Data Compliance-first Design
- Quotaguard Shield was built with a mandate for compliance and regulation, so it is purpose-built for PCI and HIPAA compliance. It also provides a clear view on data privacy with your data on Quotaguard for GDPR/CCPA compliance.

- Review Privacy Policy and our GDPR/CCPA FAQ's or simply contact us for specific questions. send us an email and see for yourself.
Secure Static IPs where you need them
You will automatically be provisioned to the proxy in your app region for ultra low latency.

Our proxies run in the US-East-1 (N. Virginia), US-West-1 (Oregon), EU-West-1 (Ireland), EU-Central-1 (Frankfurt), AP-Northeast-1 (Tokyo), AP-Southeast-1 (Sydney) and SA-East-1 (Sau Paulo) Amazon regions – so we can serve you best.
Setup and Manage with Ease
- Instant provisioning with your choice to use a HTTP or SOCKS5 proxy.

- Track usage in real-time with detailed analytics on usage trends

- No metered usage - your application stays online even if you exceed usage limits with options to seamlessly top-up or upgrade.

</sections> </article>
GLOBAL COVERAGE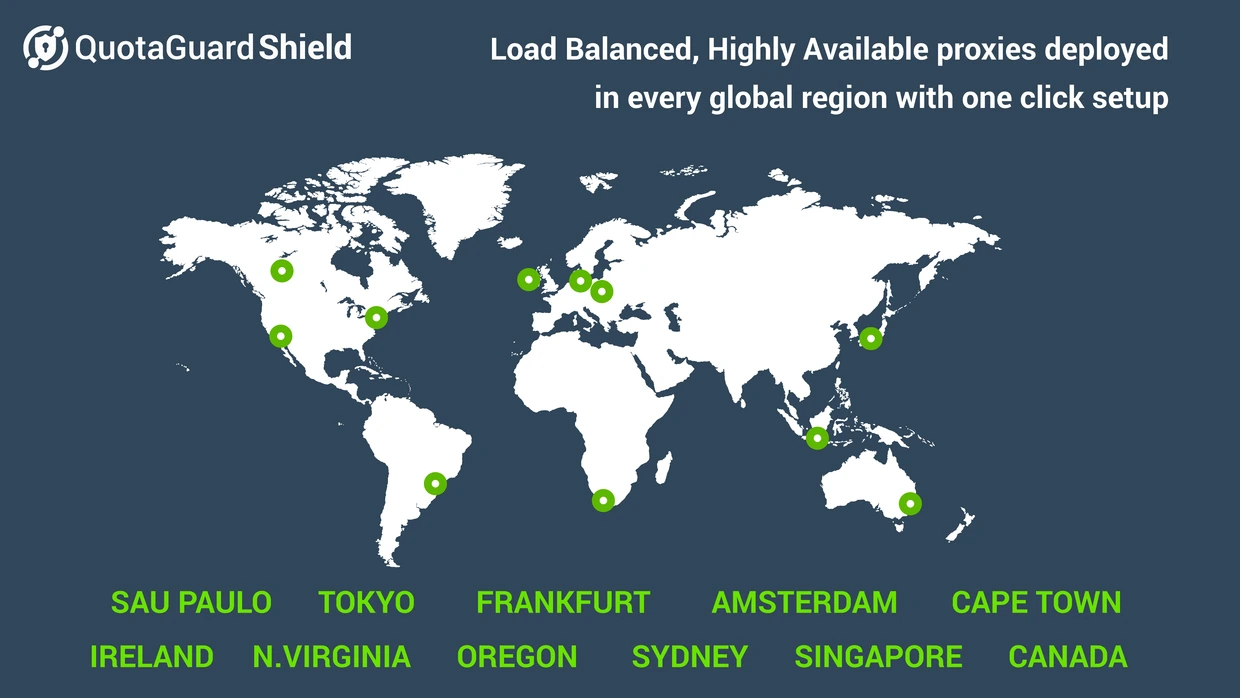 ×
Backed by world class customer and developer support
We are a company built for developers, by developers. We support a wide variety of languages and frameworks (PHP, Java, Ruby, Django, Python, Closure to name a few).
Wall of Love
Experience outstanding customer support setting up Static IP solutions with us.
Our customers did - this is what they have to say
Don't believe the hype?
Contact us to find out!