EXCELLENT
based on 21 reviews
Neal T.
2020-12-14
Works great with Heroku
Overall experience was fantastic. Most importantly, when we got stuck, Quotaguard's support was very responsive, friendly, and helpful.
The software is very simple, easy to use, and works great. Pricing is very competitive.
The underlying nature of some network protocols can make them a bit tricky to configure. Quotaguard documentation and help topics are generally good, but could cover some common or non-intuitive scenarios in more detail (i.e. the mongo+srv protocol).
Matt S.
2020-12-28
Best Static IP provider on the market
The user interface is easy to navigate and the support team answered my questions within minutes of submitting
Quotaguard was a snap to setup and configuring an SSL certificate was super easy. The support team is very helpful and fast.
We have not experiences any cons so far.
Nicholas C.
2020-12-31
Exceptional Customer Service
This service integrates super easily with Heroku, which is what we use for this particular deployment. Their customer service is also second to none – I couldn't ask for a more friendly and responsive experience.
The dashboard could benefit from some more granularity in terms of bandwidth usage.
Gary L.
2021-01-21
Quotaguard's Amazing Customer Service
Quotaguard has amazing customer service. Some of the best I've interacted with for B2B companies. Whenever there are snags or setup issues, their support answers emails quickly and hops on zooms to debug with us. Even with very little notice, they'll hop on zooms to debug. That is absolutely incredible.
Generally satisfied with the product.
Thomas Brox R.
2021-02-11
Great customer service, solid product
Helped us meet some very specific demands from one of our clients.
Easy to integrate with Heroku and very stable. Excellent customer support that goes above and beyond to accommodate custom configurations….
The user interface can be a bit lacking but anything that's not there can be solved very quickly by [SENSITIVE CONTENT HIDDEN] and the team.
Yuriy B.
2021-02-15
Easy to use, great support
Quotagurad helped me overcome the problem that Heroku doesn't support static IPs out of the box. I had to connect to restricted SOAP service and I had it working very fast.
I had troubles figuring out what is the best way to use this product in my NodeJS app so I have raised support ticket and in couple hours I have had everything set up and working with minimum configurations.
There's a bit of confusion in the docs - it was difficult for me as new user to understand which applies for Quotaguard Static and Shield add-ons.
Robert B.
2021-02-16
Excellent product, amazing support
Simple to use and if you don't get it the support is unparalleled. My knowledge was limited but with expert guidance we got my system working in what was an easier way than first expected.
Can't fault it. Did exactly what I needed.
Lucas H.
2021-03-03
Best customer support ever
The Customer Support for QuotaGuard is the best I have ever encountered, with very quick (<10min) responses and personalized help.
Issues I encountered were solved quickly and the online documentation was immediately updated to reflect my issue and the solution.
When I queried an aspect of the privacy policy, the company [SENSITIVE CONTENT HIDDEN even spoke to a lawyer to clarify the wording in the policy.
This provides a simple service and does it well. The configuration was simple enough (when I actually read the article properly!)
The interface is a little ugly, but does the job. I found the usage limits a bit low for the first tier of non-free service, but the price point is not too high.
Hishmad A.
2021-04-03
First time use
Excellent
Developer experience is excellent, the integration process with Heroku was seamless and the documentations are straightforward.
Maybe if they can provide guidance on how to integrate with Firebase Cloud Functions?
Alex B.
2021-04-19
Great support for a great product
We needed Quotaguard for a particular case and the support helped us through the installation process. Their response time was amazing! Quotaguard seems to be a very reliable solution.
Could become pricey if used for a large project.
Tommy M.
2021-04-29
Better than Fixie Socks
We had a lot of trouble getting a ruby rails app connecting to an external database that required a static IP address. We tried Fixie Socks because they said they offered TCP support for databases but their implementation did not work for ruby database drivers. I spent an entire afternoon trying to get Fixie Socks to work with no luck. Once I switched over to Quotaguard I had my configuration working as expected within the hour.
The static IP proxy worked right away as intended. We had some issues figuring out some setup but that was more of a Heroku problem than anything else, as soon as we reached out to Quotaguard's support team we had our issues resolved within the hour.
I would hope to find better documentation for database connections. When I googled how to connect a ruby rails app to a proxy for database connections the only results that came back were regarding HTTP connections and not TCP connections for databases.
Michael O.
2021-07-03
Customer support is amazing
Amazing that it exists painful that I did not know how to setup, I was about near ready to take a linux course to try to figure out how to get it working on my own. the instructions concerning bin/qgtunnel [application] should be made very apparent in the web docs
They reach out to you and hold your hand through the whole step of the process.
It was impossible to try to setup say if you wanted an application itself to send XHR through the tunnel, not just in certain parts of the code. You must come up with a name other than vendor for your dependencies because Ruby stores its packages in a vendor/bundle directory , of which .gitiginore files gladly ignore, I would recommend to mention this in errors simply that the folder is missing place in project root, but first importantly change the vendor name to say qg-vendor, vendor is somthing that Ruby a programming language uses, quotaGuard is just a small library.
Michael B.
2021-09-29
Amazing support on first time tunnelling issues
We needed to purchases x2 static IPs for a client (secure db) to allow-list. We need to tunnel into these client databases via our allow-listed IPs. We needed to setup a tunnel into the (pSQL) databases.
Super simple Implementation (neat Heroku integration) and flexibility in configuration of IP (used QuotaGuard Static IP).
Literally (for our use case) I have nothing to comment on that can be improved.
Verified Reviewer
2021-10-10
Harder to setup, but worth it
It solved the MySQL database access problem I had and everything works like a charm now. Customer support for the product is responsive and does their best to help.
There were some minor issues with the setup that prolonged my deployment time. I could not find help on them in the documentation.
Sejal S.
2021-10-11
I liked it, but lacks documentation
Overall a good experince
Ease of use. No code changed required. other products at same price requires change in code and its tedious to get started. QG dashboard is good as it not much jazzy but includes all required info. Support is great.
Documentation seems to be old to be, many things that I came to know in support phase is not mentioned in doc. Eg: how do I tunnel basic rails features like rack console etc. I had downloaded qgtunel file that needs to place at root directory of app, but did not knew it needs renaming to .qgtunnel
Rich H.
2021-11-19
Fantastic Support!
We're using the Heroku Add-On, which was easy to provision. Support was amazingly responsive and helpful during our pre-purchase analysis and post-deployment configuration. We were under significant deadline pressure and QuotaGuard's responsiveness and flexibility made me feel like a hero to the rest of our team.
The full feature set met our needs and appreciated the competitive matrix in their marketing materials. But the customer support was just stellar.
Honestly none. It's a straightforward service that works as expected.
Andrew K.
2022-05-31
Excellent Support
Very helpful support. Solid environment!
When we had some of our setup wrong and our scripts were throwing errors we reached out to Quotaguard support. They educated, gave setup suggestions and ultimately helped us get the right setup without script errors. They have your back!
Zero Cons. Our tunnels are connecting and sending data with no problems.
Cade S.
2022-07-27
Reliable static IPs!
Fastest customer service ever. No downtime.
There was no downside to using this product.
Ben S.
2022-08-16
Worth every penny
Working with QuotaGuard has been great. They have responsive customer service and have given immediate, thorough and technical solutions to all of our questions.
QuotaGuard enables us to provide connections from Heroku to our customers over a set of static IP addresses. This is a must-have feature for some customers and we would not be able to win their business without QG!
There are no drawbacks to using QG.
Jeffrey D.
2022-08-17
Solid product, great customer support
Pros: It works, it's affordable, and it's easy to configure.
Cons: Had some difficulties figuring out how to get it set up to work in my particular scenario.
What Customers Are Saying
We had an issue integrating the service with our app and within 10 minutes the team from QuotaGuard was walking me through it in a chat room, including sending over working code samples for my app. Not often you get such hands on service!
Vivek Patel, qmul.ac.uk
Keep forgetting how awesome QuotaGuard Static is. It just works. If you integrate with anything that restricts by IP, give it a whirl
JAMES H., JAMES H.
QuotaGuard Technical Support is amazing! They replied to me within minutes and solved my issues in no time. And even answered questions about my project Heroku integration. 5 stars.
Ahmad CodyTek.com
Even though in hindsight the issue was birthed by incompetence, I thank QuotaGuard for the excellent service.
Let it be known across the land that they were there in my time of need, taking the time to help and guide me with much-needed help support, and unwavering enthusiasm.
Duncan Kooyman, Automatin
As a small customer, I'm used to getting the cold shoulder when it comes to support. But that's not the case with Quotaguard.
Not only did they help me with integration, but their engineers helped me with my specific use case.
I've never experienced this level of customer service before. I can say that I'm a QuotaGuard customer for life, because I know they'll be there for this critical piece of infrastructure.
Many thanks to Michael and his superb team.
Requested to Remain Anonymous, but Still a Happy Customer
We use QuotaGuard Static in some of our prototyping, sandbox, and testing applications we run on the Heroku Common Runtime where we need to maintain a static IP connection through our test environment firewall.
QuotaGuard customer service is fantastic! We had a one-time issue and got an initial response within a few minutes. Determined the issue was on our end and gave us instructions on how to resolve it a few minutes after that and we immediately were back into testing.
Dave Whitmer, CTO, BorrowWorks Financial, Inc.
Over the past few days, Michael and Tim troubleshooted my QGTunnel connection. Though the problem ended up being on my side, they were careful, understanding, and empathetic. They responded within 30 minutes of each email I sent, while I expected at least a couple of hours. Tim was even kind enough to go through my Heroku project to find potential bugs that could've caused my issue.
I'll continue working with/recommending QuotaGuard to anyone using Heroku to connect to a DB with whitelisted IPs.
Tim Sauchuk, Jane Technologies, Inc
The customer service we received from your team was outstanding. Within 24 hours of signing up we received an email asking if we needed any help. We actually did end up needing help and Tim logged into our computer and even got on a phone call to help us find a single character that was wrong in our syntax. The application is working great now and I would recommend your services to anyone.
Jonathan Kruse, Global The Source
QuotaGuard offered a comprehensive service that fulfilled our specific needs for nearly 2-years, without issue. Based on the customer service alone, we'd highly recommend QuotaGuard to others, and should the need ever arise in the future, we will definitely look to use it again.
Dom Fennell, IMIN
I have never been more satisfied with customer service! They answered my support ticket and emails very quickly, and they provided the detail needed to get up and running. I definitely recommend this product. It solved the issue of sending data to a database through Heroku.
The product documentation could be a bit better to help guide setup, but that could also be my limited knowledge as an operator.
Ron Baldwin, RelayPlay
Quick and easy to set up.
We needed something to solve the problem of providing a fixed ip address for our serverless app. With a little bit of prior knowledge of how to proxy http requests we were able to get a solution up and running in minutes. The support team was very helpful in getting us setup and we've been very happy with the level of service so far.
Phil White, RelayPlay
We at Capptions.com have been using Quotaguards' services for many years, never faced a down time and their customer service is brilliant
Ruben Stolk, Capptions
We have used Quota Guard Static for a few of our clients who needed remote connections to AWS databases securely. Their QG Tunnel was just the right tool to help us connect our Node API to an RDS instance securely. When we ran into issues connecting on Heroku, their team was quick to work with us to pinpoint and resolve the issue in our code. I would definitely recommend them to anyone who needs to utilize a static IP address on their Heroku app.
Ricardo Fearing, Chiedo Labs
Before QuotaGuard, I was running into various brick walls. After spending only 3 minutes adding the QuotaGuard initializer to my Rails project I was running without error instantly. Don't waste time on workarounds and with your fingers' crossed, this just works and is pennies for the time it saves you as a developer.
Glenn McWhinney, Agile 5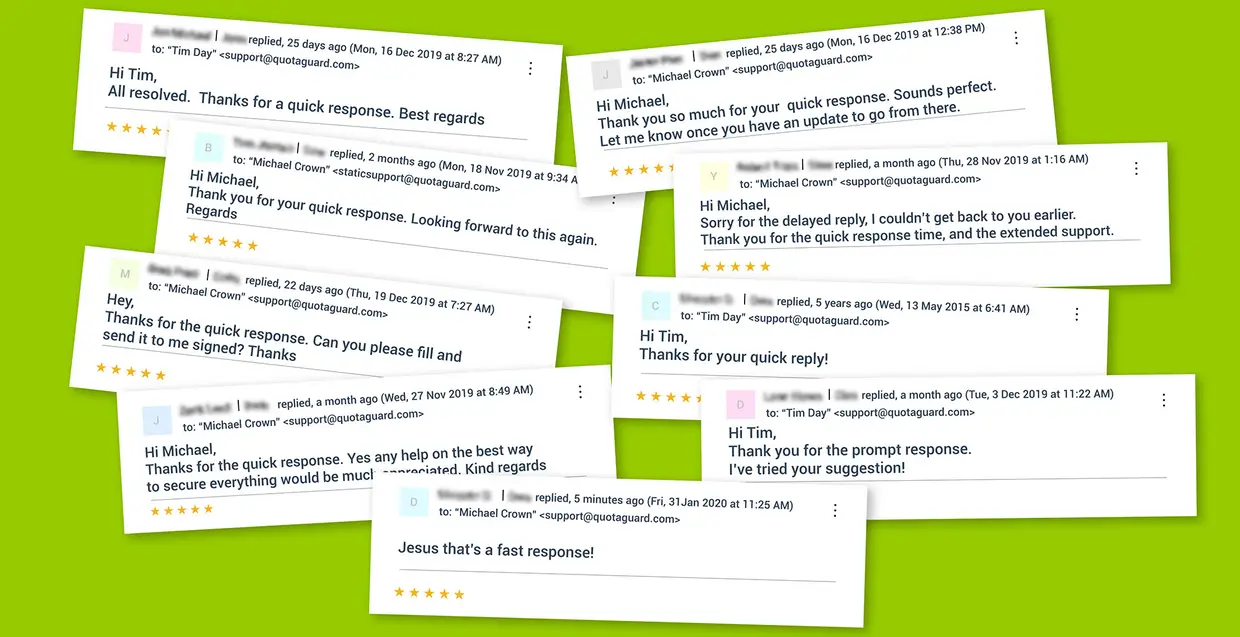 Ready to Get Started?
Get in touch or create a free trial account