Need to Cancel on our Direct Service?
Approximate time to read: 1 min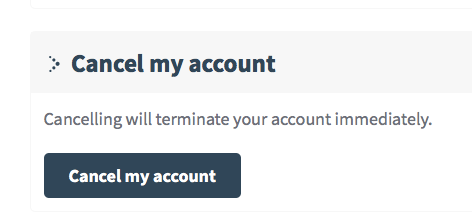 Hey everyone! We know that sometimes companies or side projects outgrow our static IP services or just don't need them anymore because an application is going in a different direction. We understand, we won't take it personally, we promise.
Yet, there's NOTHING that upsets me more than SaaS companies that make it hard for you to cancel (and claim it's because they somehow can't do it online…), it makes me never want to use them again and refrain from recommending them for my friends and colleagues.
I don't want your last interaction with us to be a frustrating one, so I wanted to set up a section where it's easy to find out how to cancel our services so you and your team can leave when you want, on your own terms, and hopefully still be happy with the service we provided when you needed it.
If you find you need to cancel your QuotaGuard service and are a direct customer from our https://www.quotaguard.com site, it's very easy. Just follow these steps:
**Please remember this is permanent, if you need to get your account back, it's likely you'll have to get new IP addresses as canceled ones get rotated for new customers once available**.
Log into your QuotaGuard account

Click in the upper right corner "Edit Account"

Click "Billing"

Scroll to the bottom and click "Cancel Account"
Voila, it's done!
Were there issues, problems, or you had a question? Please feel free to write us at Support.
Hope that helps and, as much as don't like to lose customers, we're always here to support you from start to finish and I hope this quick article helps.
– The QuotaGuard Team