Individual Subscription Setup
Subscription Selection, Setup and Configuration
Each individual subscription has its own Setup page. The Setup page is the central location for managing and configuring each individual QuotaGuard subscription.
If you have multiple subscriptions, you can toggle between multiple subscriptions by selecting them from the drop-down selector in the upper right corner.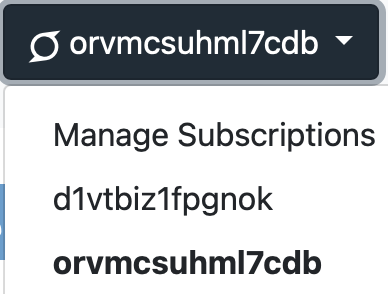 ---
Subscription Information
Each subscription has the following unique settings information:
QuotaGuard Subscription UserName: The QuotaGuard username for your subscription.
Proxy: The QuotaGuard proxy your static IP's are hosted on within the QuotaGuard system.
If you need us to move you to a different proxy, or want to have different IP's for a subscription, we can do that for you when you contact QuotaGuard Support.
Plan: The current usage plan for your subscription, based on the expected usage for the current calendar month.
---
Inbound and Outbound Proxies
Each individual subscription can be setup either as an Outbound proxy or an Inbound proxy.
On this page, you can begin to start working on configuring whichever option you want for each subscription.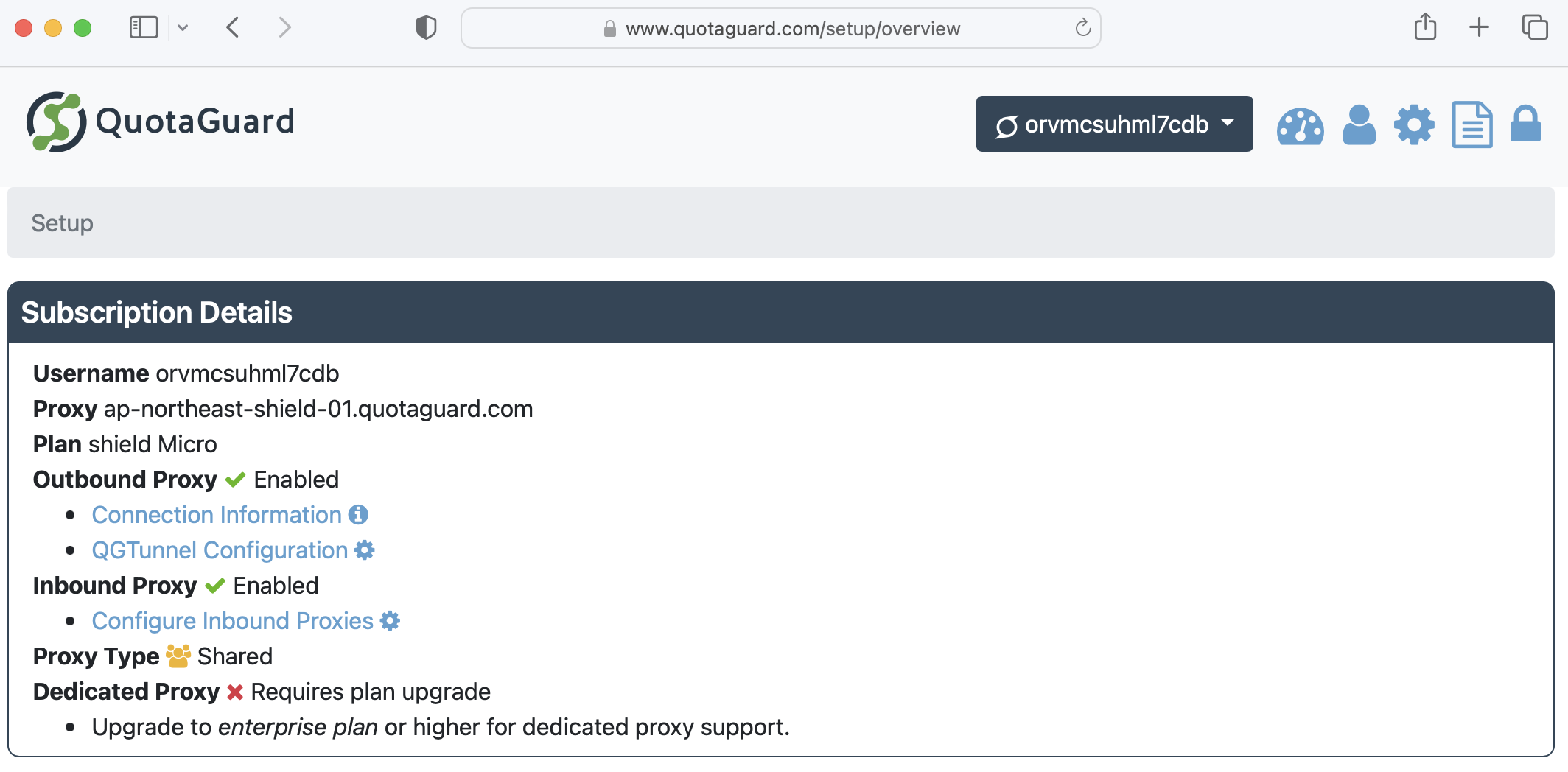 Outbound Connection Settings
    Enabled: True/False
    Connection Information: Click to retrieve all the Outbound proxy connection information.
    QG Tunnel Configuration: QGTunnel, an extremely versatile wrapper programmer for your application process, can be setup at this link. QGTunnel allows you to map one or more local ports to route through the QuotaGuard proxy servers.
If you are configuring an outbound connection, please click on Connection Information to get started.
If you need to map one or more local ports to route through the QuotaGuard proxy servers, click on the QGTunnel Configuration link to setup that routing.
We have many help pages in this documentation area to assist with setting up QGTunnel. Please check out Language/Platform section of our Documentation to find configuration guides for your unique endpoints or programming language to get started.
---
Inbound Connection Settings
Inbound Proxies allow an HTTPS client to reach your application utilizing static IP addresses.
To complete the setup, you MUST create a DNS CNAME record with your DNS provider.
The Configure Inbound Proxies link will walk you through the Inbound Proxy setup. To get started with setting up an Inbound Proxy, you will need to follow one of these two sets of directions depending on your QuotaGuard service:
   A) For QuotaGuard Static, please see Getting Started With QuotaGuard Static's IP Inbound Proxy.
   B) For QuotaGuard Shield, please see Getting Started With QuotaGuard Shield's IP Inbound Proxy.
---
Proxy Type / Dedicated Proxy
Dedicated Proxies are configurable on Enterprise plans (or higher) for all customers.
Dedicated proxies are not automatically provisioned, as many customers do not desire such a change, as that causes your Static IP's to change. (See What Happens When I Switch from a Shared Proxy to a Dedicated Proxy?)
Therefore, to request a Dedicated Proxy - after upgrading to the Enterprise Plan - please send an email to QuotaGuard Support.
If you reach a point where you can't find a setup solution in our documentation, please write us at QuotaGuard Support. We've seen thousands of different use cases and can likely very quickly get you up and running.
---
Ready to Get Started?
Get in touch or create a free trial account